Masterpiece (1994)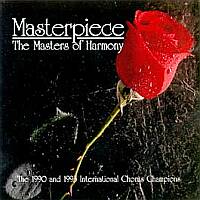 Masterpiece highlights some of the greatest composers of all time... Irving Berlin, Leonard Bernstein, Jerome Kern, Meredith Willson, and others. This album shows you why Masters of Harmony performances are met with rave reviews and standing ovations.
Price for Audio CD: $15.00
---
Included Tracks
There Used To Be A Ballpark Right Here
Ya Got Trouble (from The Music Man)
When The Roll Is Called Up Yonder
I Had Someone Else Before I Had You/Who's Sorry Now?
You Keep Coming Back Like A Song
The Joint Is Jumpin'
Make Our Garden Grow (from Candide)
Soliloquy (from Carousel)
---
Click here for Ordering Information.