Hire us for your next event!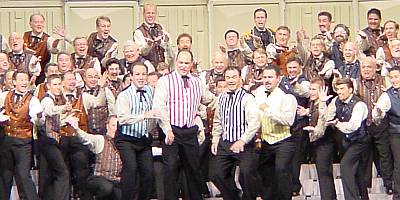 When the Masters of Harmony sing, no one is left untouched. Hearing the power and beauty of this ensemble of talented male voices joined in perfect harmony is a wonderful experience. From the beginning to the end of each performance, the nine-time international Barbershop Harmony Society chorus champions radiate a joy and enthusiasm that is guaranteed to thrill the audiences young and old. The magic of the Masters will add an exciting new dimension to your next meeting, concert series or special event.
The Masters of Harmony, one of America's premier all male a cappella choruses, has proven to be a dependable and diverse show provider. Show lengths are negotiable and performances may include one or more quartets. Our production director provides technical assistance with sound and lighting. We are a self-contained performance ensemble with our own risers, uniforms and back-stage production support!
Our music ranges from popular classics to Broadway show tunes, patriotic music, songs of faith, novelty, jazz, blues, barbershop, and more. Choreographed routines add visual interest and excitement to every performance. A full selection of holiday music is available for performance during the Christmas season.